Ok, so I've been thinking about doing some product reviews. But I didn't feel like I had "what it takes" to do it. And I lacked (BIG TIME) the confidence to do it.
Then I got to thinking...why not? I mean, really, why not! I'm a mom, I have a very strong opinion, and I love to blog (and share what works and doesn't work for us with anyone who will listen!).
So, I have officially began the journey! THL (The Homeschool Lounge) has offered a ton of moms the opportunity to do some reviews. And I jumped at the chance to do it.
We are: *
THL Moms Review Team*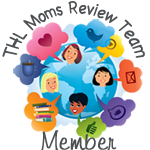 Pretty cool, huh! So check back often for upcoming reviews. And please tell your peeps!
Blessings,