I am ALWAYS on the lookout for good, wholesome entertainment for my family. We are very "particular" about what we allow our boys to watch. And since we no longer have cable it's much easier to monitor what they see and hear. But these days, even "children's" movies aren't really fit for children. So I was THRILLED when I was given the chance to review Phil Vischer's new series "What's In The Bible" Volume 1.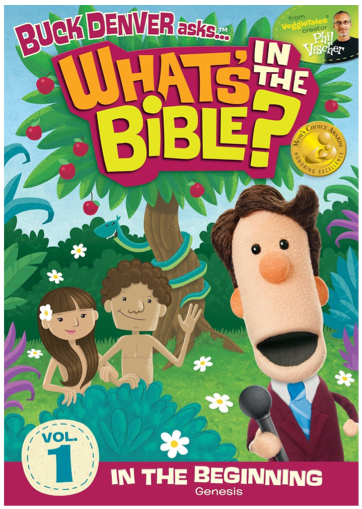 I'm sure you remember Phil Vischer. He's the creator of Veggie Tales. We loved Veggie Tales!

My boys are older now (9 and 12) so I was worried they wouldn't be interested. Boy was I wrong! My 9 year old, Logan LOVED IT!! My 12 year old, Dawson even enjoyed it. He wouldn't want you to know that, cause um...he's cool and 12 ;)
Now this isn't your normal, run of the mill "all about the Bible" deal. They break it down for a kids level, but still give it that "meat" that we are all looking for! I was even learning things...like I was going WOW!!
It has hilarious characters; granny with her chart, two silly brothers that crack you up, and Anchorman Buck Denver! It's also full of super cute music and TONS of fun.

Logan keeps running around saying, "Where are the PONIES!!"
You can c
heck out the awesome free resources to go along with your DVD
here
!
Free stuff like:
-coloring pages
-Bible flashcards
-Study Guide
-and so much more!
They even offer a whole section on the website for Christmas materials and have a church edition with curriculum! It doesn't get much cooler!
It's of course part of a complete series. 8 Volumes to be exact! Volume 8 is the Church Edition. You can view clips of the series
here
!
Be sure to stop back by and tell me how much you LOVED What's in the Bible!!!

Blessings,
"
I was selected for participation in this review and given the

What's in the bible DVD

as a member o
f The Homeschool Lounge Review Team
.
All thoughts and opinions are my own.
"